Tactical Marriage Firearm Training
Duration:        1 Day
Cost Per Person:
Non-Member: $274.50 (plus applicable taxes)
Member: $219.50 (plus applicable taxes)
Tactical Marriage and Firearms Training: Level One is a one-of-a-kind full-day experience that combines real-life marriage enrichment and defense strategies with real-life defensive pistol training.
Whether you're already licensed to carry or have never held a pistol, world-class firearm instructors and Navy Veterans, Brad and RJ Compton, will lead you through a pistol training experience that will leave you more skilled and confident, regardless of your current experience level…
In a coordinated effort with your pistol training, Reverends Raymond and Leslie Funk will break down your range experience into practical, real-life lessons and biblically-based strategies to strengthen and defend your marriage…the same ones they used to realize victory over the destructive attacks of the enemy.
Our one-day program includes a box lunch, a professional commemorative digital photo file, an opportunity to qualify for your CCW permit in the State of Florida, a frameable certificate of completion for your level one training, and a unique day of bonding and learning with your spouse that will empower you to strengthen and defend your marriage, your spouse, and your family!
Join us for a day unlike any other!
God Bless!
Course Curriculum
Morning Range:
Basic Firearm & Range Safety Rules & Commands
The Five Core Fundamentals of Marksmanship

Aiming
Breath Control
Hold Control
Trigger Control
Follow Through

Basic Firearm or Pistol
Stance
Malfunctions Mechanical & Ammunition
Morning Briefing:
Basic Marriage Safety Rules and Commands
The Five Core Fundamentals of Marriage

Aiming (Your Marriage Vision and Target)
Breath (Self) Control
Holding Fast (to God)
Trigger Control (Our mindset)
Follow-Through (Responsibility)

Basic Marriage Weapon Manipulation
Marriage Stance
Marriage Malfunctions and Correction
Afternoon Range:
Custom Tailored Drills
How to navigate multiple targets
Clearing Pistol / Firearm Malfunctions
Repetition...repetition...repetition
Afternoon Briefing:
How To Navigate multiple seasons
Stay on Target in Your Marriage
Position for Victory
(Disclaimer: the above curriculum is subject to change at any time based on conditions of weather, site, participant skill level, or any circumstance under which the program leaders believe is necessary. Due to the nature of this seminar, failure to adhere to range rules, range commands, or etiquette will result in immediate removal from the program and
escorted from the property.)
Required Equipment
A functional and practical handgun –

Pistol Caliber ONLY

Ear Protection (ear plugs and/or muffs)
Eye protection (shooting glasses

or eyeglasses

)
200 Rounds of ammunition per couple
Recommended Equipment
Bug spray and sunblock
Hand towel
Snack and water (lunch will be provided)
Notepad & pen
Clothing suited for strenuous activity as well as being seasonally appropriate (closed-toed footwear and

high-collared

shirts that aren't low cut or cut off to avoid getting potentially burned by spent shell casings)
Brimmed hat
An open mind and a great attitude
About Your Marriage Instructors
Raymond and Leslie have been married for over 12 years, and their personal testimony is one of God's restorative power over their once-broken marriage. They are committed to training up couples to defend their marriage, and their families, against the enemy that would come to attack it. To show spouses how to stay In The Fight…Together!
Certifications:
Credentialed Reverend
Certified Mental Health Coach
Certified SYMBIS facilitator
Certified Prepare/Enrich Facilitator
Leslie is a warrior both in prayer and in wisdom, and her purpose is to give women hope. During the deepest moments of their marriage, including their separation, Leslie stood on Christ the Rock and God's promises in His Word. She is living proof that no matter how devastated the marital condition might be, restoration, forgiveness, healing, and redemption of a joyful marriage is possible. Her heart is to equip wives to thrive in their marriage.
Certifications:
Credentialed Reverend
Certified SYMBIS Facilitator
Certified Prepare/Enrich Facilitator
About Your Firearm Instructors
Brad and RJ have been married 24 years, have homeschooled and raised 3 boys while running their business. They have a calling on their life to Equip the Saints and Strengthen the brethren. God is at the core of everything they do.
Certifications:
US Navy Veteran
Pistol Instructor
Rifle Instructor
Shotgun Instructor
Chief Range Safety Officer
RJ has a heart for teaching, especially those who are timid or have experienced trauma in their lives. She has a way of reaching the unreachable and teaching the unteachable. Making warriors out of victims and preventing the next victim. A world-class Instructor who has been sought after by thousands of clients. She lives by her motto, "Perfect practice makes perfect."
Certifications:
US Navy Veteran
Pistol Instructor
Rifle Instructor
Shotgun Instructor
PPITH Instructor
PPOTH Instructor
Chief Range Safety Officer
NRA Certified Training Counselor
Crossbreed Holsters Instructor
Trilogy Street Medicine Instructor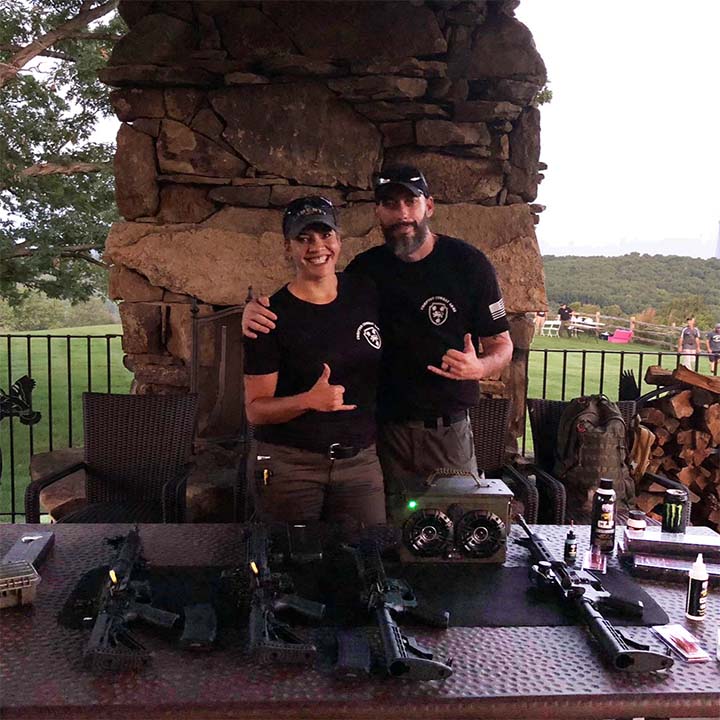 Do I need to own my own pistol?
No. We can provide a pistol for you, for a rental fee. Please note, we do have a limited number of available pistols for rental. Make note of the need for a rental during registration. If you rent, you will also be required to purchase the ammo from us upon arrival to ensure proper function of our pistols.
What if I already have my CCW and know the basics of pistol shooting, can I just wait for Level Two?
All attendees to our Tactical Marriage & Firearms Training Days will be required to start at Level One no matter their level of experience due to liability.
Am I allowed to take photographs?
Yes, as long as it doesn't distract another shooter, present a hazard, violate trademark and copyright designs, or violate any of the Range Safety Rules. Please note, the event will have a professional photographer/videographer documenting the event. All couples will be supplied with a high-resolution image to memorialize their training day.
Will we be indoors or outdoors?
Firearm training will be held on an outdoor range rain or shine unless lightning or winds pose a threat. Please plan accordingly with clothing and additional weather gear. Marriage workshop will be held indoors.
Where will training be held?
CFRPC – Central Florida Rifle & Pistol Club 14646 Wewahootee Rd, Orlando, FL 32832.
CFRPC has a speed limit of 15mph which is strictly enforced.
What if I have food allergies?
Please make note of your food allergies when registering to ensure accommodation prior to the day of the event.
Do I have to bring ammunition, or can I buy it when I arrive?
Ammunition is not included in the price of the course and we require you to bring your own ammunition with your own pistol. If you will be renting a pistol, you will need to purchase factory ammo only, no reloads/handloads allowed. Please make note of the need for a rental when registering as there are a limited number of pistols available for rental.
What happens if there is a storm or rain?
The event will proceed whether rain or shine. If there is inclement weather that is unsafe to be outside, Three Cord Marriage and its partner Rezilyent will evaluate and advise of a change of date.
How do I transport my pistol to the range?
Bring your UNLOADED pistol to the range securely encased either in a gun case or bag. If you do not have a bag or case, coordinate with Rezilyent prior to taking the pistol out of your vehicle.
Do both me and my spouse need pistols?
Although it is recommended, it is not required for both spouses to have a pistol for the day's training. Spouses are permitted to share a pistol, as you will most likely be taking turns shooting down range.